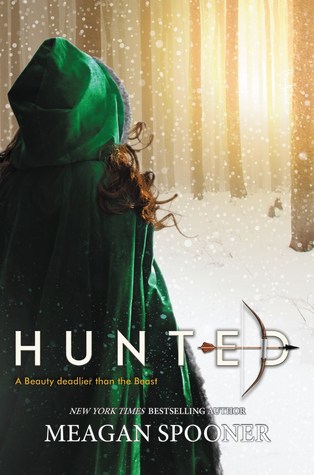 Hunted, Book 1
Synopsis: Beauty knows the Beast's forest in her bones—and in her blood. Though she grew up with the city's highest aristocrats, far from her father's old lodge, she knows that the forest holds secrets and that her father is the only hunter who's ever come close to discovering them.

So when her father loses his fortune and moves Yeva and her sisters back to the outskirts of town, Yeva is secretly relieved. Out in the wilderness, there's no pressure to make idle chatter with vapid baronessas…or to submit to marrying a wealthy gentleman. But Yeva's father's misfortune may have cost him his mind, and when he goes missing in the woods, Yeva sets her sights on one prey: the creature he'd been obsessively tracking just before his disappearance.

Deaf to her sisters' protests, Yeva hunts this strange Beast back into his own territory—a cursed valley, a ruined castle, and a world of creatures that Yeva's only heard about in fairy tales. A world that can bring her ruin or salvation. Who will survive: the Beauty, or the Beast?
Review: How to resist a retelling of The Beauty and the Beast? I admit that it is completely impossible for me! I was marked by the Disney movie in my childhood and I was really curious to discover the ideas of the author. I had heard about the author by some of her other books but this is the first novel that I read of hers and I confess that I am charmed!
We discover Belle (Yeva) and her sisters who, after a terrible incident, find themselves without money and forced to flee away from the city to continue to survive. But although the girls adapt and that Yeva is finally happy to find the forest again, their father is losing his head little by little until he disappears. Abandoning her sisters to find him, Belle will discover a world she did not suspect. Captured by the beast and hoping to avenge her father's death, Belle will stay by his side while the latter will train her for her to chase what he can not catch.
It is a magical story that Meagan Spooner presents to us and I was moved very quickly by the novel from the very first pages. We understand perfectly Yeva's desire for freedom, her desire to be someone else. It is really interesting to see how the author has reappropriated the story by keeping the background. I found that the whole thing was really well found and full of surprises and I was always eager to know the following events.
It was a nice surprise and a beautiful discovery. In addition, I really enjoyed all the characters and the morality of the story very well brought. Yes, I had trouble putting down the novel before finishing it and I really had a great time.