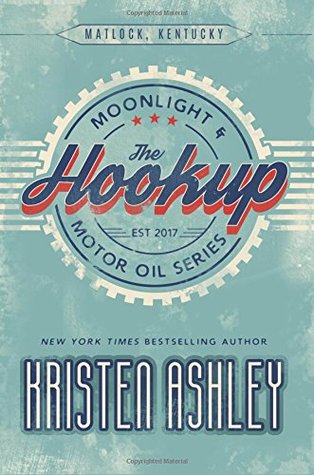 Moonlight and Motor Oil, Book 1
Synopsis: When the new girl in town, Eliza "Izzy" Forrester decides to hit the local drinking hole, she's not ready to meet the town's good, solid guy. She's definitely not prepared to engage in her very first hookup with him.

Then Izzy wakes up the next morning in Johnny Gamble's bed and good girl Izzy finds she likes being bad for Johnny.

Even so, Izzy feels Johnny holding her at arm's length. But Johnny makes it clear he wants more and Izzy already knows she wants as much of hot-in-bed, sweet-out-of-it Johnny Gamble.

Floating on air thinking this is going somewhere, Izzy quickly learns why Johnny holds distant.

He's in love with someone else. Someone who left him and did it leaving him broken. Whoever was up next would be runner up, second best. Knowing the stakes, Izzy will take what she can get from the gentleman that's Johnny Gamble. And even knowing his heart might never mend, Johnny can't seem to stay away from Izzy.

Until out of nowhere, his lost love comes back to town. He's not going back, but Johnny still knows the right thing to do is let Izzy go.

And Izzy knew the stakes, so she makes it easy and slips through his fingers.

But that's before Johnny realizes Eliza moved to town to escape danger that's been swirling around her.

And that's why Johnny decides to wade in.

That and the fact Eliza Forrester makes breakfast with a canary singing on her shoulder and fills out tight dresses in a way Johnny Gamble cannot get out of his head.
Review: I did not read a lot of Kristen Ashley's novels, but I heard a lot about this one and I was very intrigued to try it. I love her Rock Chick series and I was curious to find her in another story.
Eliza never slept with a man that she did not know after meeting hin in a bar and yet that's what happens at the beginning of the book. She does not know how to behave the next morning, she is not used to it. And then, Johnny Gamble makes her want to have more than one night. It seems that he wants that too. Yet when she learns that he is heartbroken by his latest conquest, a woman he thought to marry, she understands why there is a certain distance between them. She knows what to expect, but it's hard for her to put barriers.
I had a good time with the story I must say, but I was a little disappointed because I expected a lot more. At several times in the story, I wondered what the author was going to offer us because it was difficult to see where she wanted to go. I felt that things were resolved and it made me lose the thread. However, that does not change the fact that the author has a very pleasant style to read and I still had a good time. I think I will test her other series to see if I can find something else that I like as much as Rock Chick.