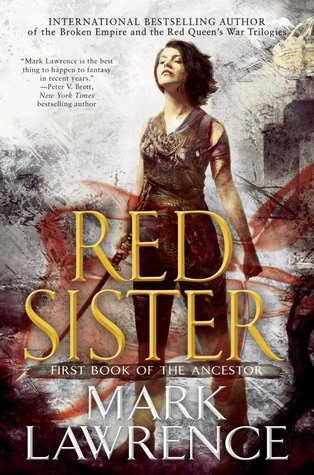 Book of the Ancestor, Book 1
Synopsis: I was born for killing – the gods made me to ruin.

At the Convent of Sweet Mercy young girls are raised to be killers. In a few the old bloods show, gifting talents rarely seen since the tribes beached their ships on Abeth. Sweet Mercy hones its novices' skills to deadly effect: it takes ten years to educate a Red Sister in the ways of blade and fist.

But even the mistresses of sword and shadow don't truly understand what they have purchased when Nona Grey is brought to their halls as a bloodstained child of eight, falsely accused of murder: guilty of worse.

Stolen from the shadow of the noose, Nona is sought by powerful enemies, and for good reason. Despite the security and isolation of the convent her secret and violent past will find her out. Beneath a dying sun that shines upon a crumbling empire, Nona Grey must come to terms with her demons and learn to become a deadly assassin if she is to survive…
Review: I do not read much fantasy, it's true! It is not necessarily my favorite genre but I confess that the synopsis of this one immediately seduced me! Besides, I can tell you that I am sad to see that Volume 2 has not been released yet.
I confess that the format of the story surprised me. We begin with a chapter that we do not necessarily place, and the rest ends up in the course of history to finally understand its meaning at the end of the story. Yet it brings a lot of questions and I am really looking forward to seeing what happened to get there and especially to know the continuation of the adventures of our young heroines. This is put aside, we follow the story of Nona, a little girl who is sold to a children salesman, who will go through prison, to find herself in a very strange holy place.
I admit that I was very curious to learn more about Nona. She hides from everyone the events of her past and I waited impatiently to know the whole truth. Our young heroine is going to start an apprenticeship that she never thought she would follow, meeting her comrades who will become her friends, but also placing her at the center of a prophecy and dangers that no one would have suspected.
I loved to follow this story, it is really full of ideas and surprises. I can not say much without revealing more but our young heroines will have to face a lot of obstacles, and even some really terrible ones!
In any case, it was a very good discovery, and as I said I can not wait to read more!