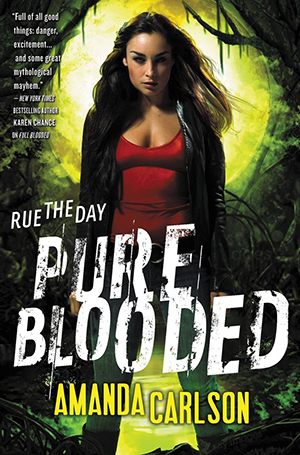 Jessica McClain, Book 5
Synopsis: Jessica arrives back from the Underworld to find her father embroiled in a battle against the Made wolves. She and her crew drop everything to join them.

Once she arrives, the threat is after her. Jessica is lured into danger when her adversary takes something precious from her. With help from an unlikely source, Jessica goes up against her creator in a battle that will decide the path of everyone involved. She must war against a new set of foes, ones who could not only steal her power, but could take her soul as well.
Review: After a volume full of events, I was curious to find Jessica and know what she would do in the course of her adventures. And it must be said that once again she is far from being able to stay quiet or rest.
Back from hell, our heroine meets with her father to help him in his battles but a new enemy emerges and our group is facing a priestess who seems determined destroy them all. Injuring her friends, Jessica is determined to find a solution to her problems and to advance to finally have a quiet life. However, it seems that nothing is possible, and the troubles are only accumulating again and again.
It was a novel rich in action (perhaps too much?) but it was nice to see Jessica and her friends. We still would like for her to finally have a little time because it is ultimately not the case here and it is quite tiring to see her do so many things. Even if I found a few elements annoying here, I had a good time with all the characters that I've come to love. Some new stories are also highlighted in this book, making us curious for the future.
So as I said we have a volume in the line of the previous one and I remain curious to discover the next one of the saga.