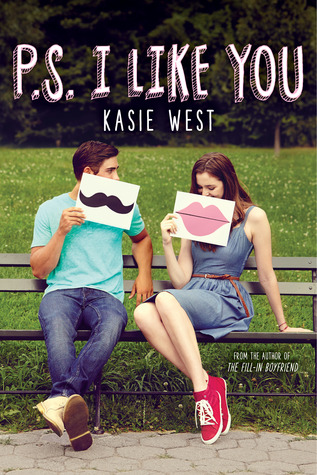 Synopsis: Signed, sealed, delivered…

While spacing out in chemistry class, Lily scribbles some of her favorite song lyrics onto her desk. The next day, she finds that someone has continued the lyrics on the desk and added a message to her. Intrigue!

Soon, Lily and her anonymous pen pal are exchanging full-on letters—sharing secrets, recommending bands, and opening up to each other. Lily realizes she's kind of falling for this letter writer. Only, who is he? As Lily attempts to unravel the mystery and juggle school, friends, crushes, and her crazy family, she discovers that matters of the heart can't always be spelled out…
Review: I heard a lot about Kasie West and it is true that the reviews are always fantastic. I never had the opportunity to get into one of her novels but the release of PS: I like you in French was a good opportunity. I was really eager to finally read one of her stories.
I must say that at the beginning of the novel, that is to say for one or two chapters, it was complicated to enter the narrative, but after that moment I let myself be completely carried away, to the point that I couldn't put it down without finishing it. Ouep you understand well, I read it in one go and I can tell you that nothing could distract me!
We discover Lily, a girl a little apart, discreet and who would like, one day, to be able to share her passion for songs that she loves to write but that she never succeeds in finishing. But then, Lily's life will change when in Chemistry, she starts exchanging words with another person whose identity she does not know about. It was very touching to see her confide and help this other student. What is a shame is that with the French translation we know right away whether it is a girl or a boy. But it's only a detail but it's true that when she realizes it, we already know.
As I said, I loved to follow the exchanges of the two characters. I knew pretty quickly who was behind it all but it was very interesting to see her refuse to know, to think, to make hypotheses but especially to see her try to help him. Lily's life is fun to discover, her family is full of freshness and what about the rabbit that terrifies everyone? Yes we easily connect to all the characters, all Lily's brothers and sisters of but also to her friends and we wait with impatience to see what will happen.
I will not say more but it's very good YA story. I was really taken away by the narrative and the adventures of each protagonist. If the others are in the same vein, I can not wait to read them. I also hope that we will have the chance to have new ones in French!