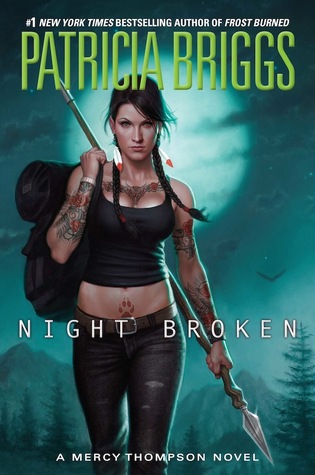 Mercy Thompson, Book 8
Synopsis: An unexpected phone call heralds a new challenge for Mercy. Her mate Adam's ex-wife is in trouble, on the run from her new boyfriend. Adam isn't the kind of man to turn away a person in need—and Mercy knows it. But with Christy holed up in Adam's house, Mercy can't shake the feeling that something about the situation isn't right.

Soon, her suspicions are confirmed when she learns that Christy has the farthest thing from good intentions. She wants Adam back and she's willing to do whatever it takes to make it happen, including turning Adam's pack against Mercy.

Mercy isn't about to step down without a fight, but there's a more dangerous threat circling. Christy's ex is more than a bad man—in fact, he may not be human at all. As the bodies start piling up, Mercy must put her personal troubles aside to face a creature with the power to tear her whole world apart.
Review: After finishing the 7th book, I immediately jumped into this eighth volume, knowing that I would love it (which is the case of course). I was really curious to see what Patricia Briggs would present this time and I can tell you that you won't be disappointed.
New problems arise for Mercy early in the novel, the biggest one is named Christy, the Adam's ex-wife. Trying to escape her new lover who killed a friend of hers, she seeks asylum to the werewolves in order to be protected and helped. You can imagine that this is far, but very far from pleasing our young heroine and we can easily understand it. It is rare that a character inspires me so many strong feelings… Oh yes because we viscerally hate this woman as soon as she sets a feet in the house of our heroes, trying to act as if she never left and manipulating everyone. It's really impressive to see how she manages to get people to take her side without them realizing it and the only thing our coyote can do is to accept that and to try to stay calm in all circumstances. Mercy tries not to be hurt by the remarks, but I must say that it is very difficult and even though she knows that Adam does not like her, some actions are very difficult to accept. The fact that some members of the pack greatly appreciate Christy really does not help at all for that matter, but fortunately for her, she found in others unexpected allies. In the end, I still find that Mercy had come to manage this unmanageable situation perfectly well. But having Christy with them, does not change the fact that the man still wants to recover her and he does not take "no" for an answer. However, beginning as a fairly simple matter, it may well be that everything is much more complicated than expected, especially if that character is much more than an ordinary human. And I can say that I was really impressed by this man, who is really a big villain in the story.
But that's not all because we also discover a little more about Mercy herself and Coyote. And I confess that I was really interested to know more about them, especially when another character, Gary comes into play. I loved this new protagonist who brings a nundeniable touch to the story. His dialogues, his actions and comments are always very colorful! We also have some new information about Faes, about Tad but also about Stefan. Although we suspected some facts relative to the latter by the previous volume, others are also confirmed here.
To conclude, we have many revelations of all kinds, keeping us in suspense throughout the story, also fueling our curiosity and I can tell you that you will be surprised by the events happening in this novel (with a totally frantic pace) and I'm even more excited now to read the next book that the author will present. This is a really good series that I can only recommend it, you will not be disappointed!