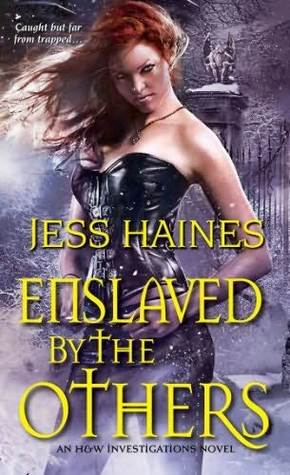 H&W Investigations, Book 6
Synopsis: Vampires, werewolves, magi and worse-the Others have joined the mortal world, and there's no turning back now…

As a New York P.I. and Other specialist, Shiarra Waynest has been in plenty of trouble before. But waking up in a windowless room the prisoner of a vampire slave trader is a shock for anyone. Shia has her wits, her bravado, and a couple of used staples, so maybe she can take on a mansion full of serious evil.

But although she's desperate to escape, Shia needs some answers too. Her friends are in danger. There are betrayers and spies among them. And even if she can figure out what's going on and somehow get a message out, she's still a captive of the worst kind…
Review: I always take a great pleasure in reading this series and I looked forward to this new novel. I must say that the previous volume ended on a big cliffy and I think all readers were curious to know what would happen.
After being kidnapped by Max, Shia finds herself trapped with a man she hates and who seems to have a specific plan for her. So yes, the book takes place in this new place and I was surprised to discover that the story only features Shiarra. However, we will see Alec, Sara Gideon, Arnold for our greatest joy as well. This allows us at the same time to discover many new characters that we had never seen before but who look very promising for the future.
From the beginning, our heroine will have to think of a way to escape, however, it seems much more complicated than expected. Max holds her in safe custody and remains determined to squeeze everything she knows about Alec. Under threats, I was quite impressed by the courage of the young woman and her composure over everything that is happening. Oh yes, because the vampire doesn't go easy on her and she will have to find a way to survive. Of course, escaping remains her top priority, but also something very difficult to do. In addition, Sara is herself a prisoner of Gideon and Shia is determined to do something for her, yet she also happens to be the point to make our heroine talk and act. But the ideas of revolt of the young woman will come to contaminate other people living in the mansion, even the most frightened by the consequences. Moreover, we meet a character and a different slave who might have an impact on the life of our hunter, whether present or future. I'm pretty curious to see what will happen in the next novel.
How not to speak more specifically about Max? I think it is impossible, he embodies the big villain and fully acts as such. He doesn't care about the persons he has and he considers them as real pets who owe him complete obedience. Hating him from the start, this man is completely crazy. He can pass in the blink of an eye from the most abominable man, to a gentle man who treats the injuries he could inflict. It really is surprising and it's true that I struggled to understand this character so twisted.
The last passages with Alec and those with Sara were really my favorite. Ah Alec… I confess that I am very curious to see what will happen thereafter, to see if  we will finally have a history with him throughout the chapters. This novel was in any case once again a nice find and I had a great time with this new adventure. I look to learn more now.