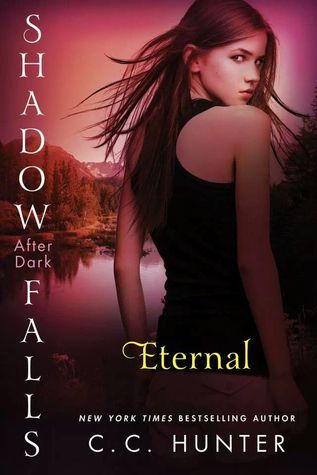 Shadow Falls: After Dark, Book 2
Synopsis: All her life, Della's secret powers have made her feel separated from her human family. Now, she's where she belongs, at Shadow Falls. With the help of her best friends Kylie and Miranda, she'll try to prove herself in the paranormal world as an investigator—all the while trying to figure out her own heart. Should she chose Chase, a powerful vampire with whom she shares a special bond? Or Steve, the hot shapeshifter whose kisses make her weak in the knees? When a person with dark connection to her past shows up, it'll help her decide which guy to choose–and make her question everything she knows about herself.
Review: I was really looking forward to reading more about Della after finishing the first volume. The prequel has allowed me to wait a bit before reading this new novel and I was glad to discover the short story before this one as we learn more about the Chase's past. The first volume had left us with a cliffy that made me impatient for the second volume. Oh yes because I was curious to see what would happen between Della, Steve and Chase.
So we find our beloved heroine who must manage the bound developed between her and Chase. But what can she do? Whatever she does to forget it, it is alive and here. Yet we have Steve, the boy she likes a lot, and she knows she can not leave him. However, things could change when she learns that the boy has to leave for several months and he asks her to settle her story with Chase to see what she really wants to do next. It's pretty sad to see Della, as well as Steve and at the same time we understand why he does so. It must be very difficult to see the girl he loves away from him in this way, especially knowing that she also works with the vampire. Hopefully everything will work out in the end but it's true that it's hard to say which boy I would prefer for her. Both are very different but while Steve is quite the nice guy, Chase remains opposed and his secrets could well ruin everything. Yes because it is very easy to trust the first one while we still do not know what to do with the young vampire and the end of the story changes our mind again.
But in addition to this romance rather complicated, Chase and Della must work together. Indeed, it seems that two vampires are gone, locked to die alone. But the two manage to collect visions of their survival and they will do everything to try to find them whatever everyone can say in relation to their chances of success. Added to this, they will also both be helped by a ghost, a person we do not know the identity initially. But nothing is simple for Della when in addition, her family stories are added, completely turning the girl upside down who seems to have initiated many things without really knowing it.
So again I had a great time and I love to follow all the heroes present here. It was a great surprise and I look forward to read more after such a purpose!