Nous sommes très heureuses d'accueillir Bec McMaster, l'auteure de la série Londres la Ténébreuse, dont le premier tome, La Fugitive de Whitechapel sort chez les Editions J'ai Lu le 15 avril 2015. Vous pouvez retrouver un avis du premier tome ici. Merci à l'auteure pour avoir répondu à nos questions. La traduction en Français est à la suite de l'interview Anglaise.
——
We're very happy to welcome on the blog Bec McMaster, the author of the London Steampunk series. Thanks to her for her answers.
—————————–
Hi, Bec! Could you tell a bit about yourself for those people who don't know you yet?
Of course! I write paranormal/steampunk romance books, that feature an alternate London, which is ruled by the vicious aristocratic elite (kind of like a blood-thirsty ton), with dangerous heroes and kick-bustle heroines. I live in a small country town in Australia, with my very own hero, and a dog who snores like a train, and I'm addicted-to-travel and books.
Describe what the London Steampunk series is about in one sentence.
Smart heroines and dangerous heroes who seek to triumph over a vampiric aristocratic world, and fall in love along the way.
What should the readers expect from your books?
Action, edge-of-your-seat adventures, heroines who can handle themselves and dangerous heroes who defy the odds to win the heart of that heroine – plus a heated romance of course!
Why did you decide to write steampunk romance?
A few of my first loves were definitely fantasy, and sci-fi – I didn't realise romance was really there until I turned sixteen and stumbled into that aisle in the bookstore, once I realised I owned everything in the fantasy aisle. It was always something that I was missing in my fantasy books, and those books that were my favourites definitely had a strong romantic thread, so putting the three together (romance/fantasy/sci-fi) really clicked for me.
Do you have to do a lot of research for your books?
Absolutely. I often hit the internet whenever I'm looking for a turn of phrase (particularly to see if it was in use during the time period I write in), or inventions that existed, the fashions that were worn, and historical events that actually happened that I can warp into my alternate history.
How many books have you planned in this series?
The first phase of London Steampunk is about to finish, with the release of book five, Of Silk and Steam. I love series' that go somewhere – have a beginning, and a conclusion, if you like – as I often find open-ended series' lose their intensity as the plotlines dwindle off into nothing. What you once loved about a series loses it's edge if it drags out, and its disappointing for me as a reader, so I don't ever want my books to lose their intensity, or be 'filled' with extraneous plot, just to push out another book. I'm looking at continuing the series with what I call 'Phase 2'. It involves side characters from the first phase, but with an entirely new plot arc, and a beginning, middle, and end.
Who would you imagine as actors to play Blade and Honoria if Kiss of Steel was a movie?
I love casting movies in my head! I love Cam Gigandet for Blade (from Burlesque, Priest and Twilight), as he is both attractive and features that edge – a sense of danger, of humor, and also of power – that I see in Blade. As for Honoria, she's very practical, rational and stubborn. I just picture Rose Byrnes (from Troy and Bridesmaids) for her. She looks like she could hold her own, plus she's Australian, so she gets points for that.
To fans of which genre/author would you recommend Kiss of Steel?
Kiss of Steel is very much a
mish-mash of genres. I've found that readers who enjoy historical romance, steampunk, paranormal romance, possibly fantasy or sci-fi really connect with it. That being said, it is a romance at heart. That is its absolute base genre, so readers who enjoy sci-fi/fantasy but not so much romance, probably won't enjoy it as much as those that do love romance. I'll also add that I tend to write on the darker side of paranormal. I balance it with humor and emotion, but if you prefer lighter romances, this might not be for you.
If you like authors such as Kristen Callihan (of the Darkest London series), or Meljean Brooks (The Iron Seas) then you might enjoy it.
Are you planning to write other series/books?
I am actually working on six different projects at the moment, because I'm a polygamist as a reader, and a writer! They're spread over a variety of sub-genres within the romantic genre, as I find I am often more interested in a particular story that strikes at my heart, regardless of sub genre, rather than just writing another paranormal, or steampunk, because that is what I have done in the past. So some of the projects are paranormal, or steampunk, some are a little bit more contemporary, some run into Urban Fantasy. I believe a writer should write the books of their heart, always, and each of these stories is very important to me.
Will you be reading the French translation?
I am going to own a copy, that's for sure. My French is very, very basic, and one of my true regrets in life is not pursuing it as a language after school. You know what? I might actually look into using that as inspiration to learn a little, so perhaps I could read it? I am going to put that down as a little goal on my Improve-Myself List, so thank you for suggesting it!
Have you ever used people you know as characters in your books?
Not really. I am very much a writer in that I like to observe people and work out why they do/feel what they do, so sometimes I put that into my characters, but they're very much a creation of my own.
Where can you be found when you're not at your desk writing?
In the kitchen, at the gym, playing sport, or hiking, or getting out into the wilderness with my boyfriend. I'm the type of person who prefers my own company most times, so cooking with love is something that really appeals to me, and being active or competitive is also a priority.
What did you do to celebrate the release of your first book?
 I live in a small town in country Victoria, in Australia, and they have been really supportive of my endeavors, so we held a little bit of a release party. There was an enormous cake shaped like my book – from my step-mother as a surprise – and champagne, and lots of fun. Two of the local theatre company members offered to dress up as the main characters and read an excerpt, so that was really good fun.
What authors have been an influence to you? And have you read any books lately that you want to share with us or have you been too busy with writing to read?
I think every book I read has an influence on me in some small way. They inspire me to create my own worlds and characters, and sometimes I read something so beautifully written that I wish it had been mine! However, finding time these days is definitely difficult. I recently read The Diabolical Miss Hyde, by Viola Carr, which is a wonderfully crafted steampunk Who-dunnit, a little bit of a cross between Jekyll and Hyde, and The Silence of the Lambs.
How many of the books will be translated?
At this stage, the first five, and one companion novella.
Your books are released in France, do you see yourself meeting your French fans one day?
I travelled to France six years ago, and it was lovely. The food was divine, and it was so relaxing and pleasant, plus a real feast for the mind, with all of the art galleries and museums. I could simply spend days just wandering little villages there, so I would love an opportunity to come back one day. It would combine two of my greatest loves – travel and talking books with people of a like mind to me, so fingers crossed I get that chance.
Thank you so much for having me. I hope you all enjoy my London Steampunk world!
——————-
Bonjour, Bec! Pouvez-vous nous en dire un peu plus à votre sujet pour ceux qui ne vous connaissent pas encore ?
Bien sur ! J'écris des romances paranormales/steampunks, qui mettent en scène un Londres parrallèle, qui est gouverné par une élite vicieuse aristocratique, avec des héros dangeureux et des héroïnes coriaces. Je vis dans une petite ville en Australie, avec mon propre héro et un chien qui ronfle comme un train et j'adore les voyages et les romans.
Décrivez la série Londres la Ténébreuse en une phrase.
Des heroines intéligentes et des héros dangereux qui cherchent à triompher du monde aristocratique des vampires, et tombent amoureux sur le chemin.
A quoi peuvent s'attendre les lecteurs avec vos livres ?
Action, aventures, des heroïnes qui peuvent s'occuper d'elles, et des héros dangeureux qui defient les probabilités pour gagner le coeur de l'héroïne – le tout avec une très bonne romance bien sur !
Pourquoi avez-vous decidé d'écrire des romances steampunks ?
Quelques uns de mes premiers amours étaient la fantasy et la SF – je n'ai pas realisé que la romance était là avant d'avoir seize ans et que je me retrouve dans cette aile à la librairie, aprés avoir lu tout ce qu'il y avait dans l'aile fantasy. C'était ce qu'il manquait toujours à mes fantasy, et ces livres que je préférais avaient une présence romantique, alors en mettant les trois ensemble (romace/fantasy, SF), cela a vraiment marché pour moi.
Avez-vous besoin de faire beaucoup de recherches pour vos livres ?
Absolument. Je regarde souvent sur internet quand je cherche une tournure de phrase (surtout pour voir si c'était utilisé Durant la période à laquelle j'écris mon histoire), ou pour les inventions qui existaient, la mode et les événements historiques qui se sont passés et que je peux ajouter à mon histoire parallèle.
Combien de livres avez-vous prévu pour la série ?
La première phase de Londres la Ténébreuse est bientôt terminée, avec la sortie du cinquième tome, Of Silk and Steam. J'adore les séries qui vont quelque part – qui ont un début et une conclusion – comme j'ai l'impression que les series à fins ouvertes perdent de leur intensité avec une intrigue qui ne finit pas vraiment. Ce que vous aimiez au départ dans une série perd de son attrait si elle traîne et c'est décevant pour moi en tant que lecteur, alors je ne voulais pas que mes livres perdent leur intensité, où soient pleins d'intrigues ajoutées, seulement pour ajouter un autre livre. J'espère continuer la série dans ce que j'appelle « phase 2 ». Cela implique des personnages secondaires de la première phase mais avec une toute nouvelle intrigue et un début, un milieu et une fin.
Qui imagineriez-vous comme acteurs pour jouer Blade et Honoria si La fugitive de Whitechapel était un film ?
J'adore caster les films dans ma tête ! J'aimerais Cam Gigandet pour Blade (de Burlesque, Priest et Twilight), comme il est à la fois charmant et montre ce sens de danger, d'humour mais aussi de pouvoir – que je peux voir en Blade. Pour Honoria, elle est très concrète, rationnelle et têtie. Je verrais Rose Byrnes (de Troy et Bridesmaids) pour elle. On sent qu'elle peut se supporter seule, puis elle est Australienne, alors elle gagne des points pour ça.
Pour les fans de quel genre/auteur recommendriez-vous La fugitive de Whitechapel?
La fugitive de Whitechapel est un mélange de genre. J'ai vu que les lecteurs qui aimaient la romance historique, le steampunk, la romance paranormale, possiblement la fantasy or la SF avaient vraiment connecté avec le livre. Cela dit, c'est une romance au fond. C'est le genre de base, alors les lecteurs qui aiment la SF/fantasy mais pas la romance, n'aimeront probablement pas autant que ceux qui aiment la romance. J'ajouterai que je tends à écrire sur le côté sombre du paranormal. Je balance entre l'humour et l'émotion, mais si vous préférez des romances légères, ce n'est peut-être pas pour vous.
Si vous aimez des auteurs tels que Kristen Callihan (série Les Ténèbres de Londres), ou Meljean Brooks (The Iron Seas) alors vous pourriez aimé celui-ci.
Ecrivez-vous d'autres livres/series ?
Je suis en train de travailler sur 6 projets différents pour le moment parce que je suis une polygamiste en tant que lectrice, et auteure ! Ils se placent sur une variété de sous-genres dans le genre romantique, comme je suis plus intéressée par ce genre d'histoire qui fait palpiter mon cœur, plutôt que d'écrire juste un autre paranormal, ou steampunk. Certains sont plus contemporains, certains partent dans l'urban fantasy. Je crois qu'un écrivain devrait écrire les livres de leur cœur, et chaque histoire est très importante pour moi.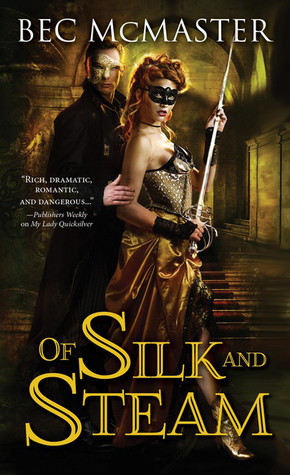 Lirez-vous la traduction Française ?
Je vais avoir un exemplaire, c'est sur. Mon Français est très très basique, et un de mes véritables regrets est de ne pas avoir continué la langue après l'école. Vous savez quoi ? Il se pourrait que j'utilise cette inspiration pour en apprendre un peu plus et peut-être que je pourrais le lire ? Je vais noter cet objectif sur la liste pour m'améliorer, alors merci de l'avoir suggéré !
Avez-vous déjà utilisé des personnes que vous connaissez en tant que personnages dans vos livres ?
Pas vraiment. Je suis un écrivain qui aime observer les gens et travailler avec ce qu'ils font/ressentent, alors parfois je mets un peu de ça dans mes personnages, mais ils sont une version de ma propre création.
Où peut-on vous trouver si vous n'êtes pas à votre bureau en train d'écrire ?
Dans la cuisine, à la gym, en train de faire du sport, de la randonnée ou dans le desert avec mon compagnon. Je suis le type de personne qui préfère ma propre compagnie la plupart du temps, alors cuisiner avec amour est quelque chose que j'adore et être active et compétitive est aussi une priorité.
Qu'avez-vous fait pour célébrer la sortie de votre premier livre ?
Je vis dans une petite ville dans la contrée de Victoria, en Australie, et ils ont été d'un grand support, alors nous avons fait une petite fête. Il y avait un énorme gateau représentant mon livre – de ma belle-mère comme surprise – du champagne et beaucoup de bons moments. Deux compagnies des théatres locaux ont offerts de s'habiller comme les personnages principaux et de lire un extrait, alors c'était vraiment sympa.
Quels auteurs vous ont influencé ? Avez-vous lu des romans dernièrement que vous voudriez partager avec nous ou êtes vous trop occupée à écrire pour lire ?
Je pense que chaque livre à une influence sur moi même à petite dose. Ils m'inspirent à créer mes propres mondes et personnages, et parfois je lis quelque chose de si magnifiquement écrit que je souhaite que ça soit à moi ! Pourtant, trouver le temps de lire ces jours ci est devenu difficile. J'ai lu récemment The Diabolical Miss Hyde, de Viola Carr, qui est magnifiquement placé dans le steampunk, un genre croisant Jekyll and Hyde, et le Silence des Agnreaux.
Combien de livres seront traduits ?
Pour le moment, les cinq premiers, ainsi qu'une nouvelle.
Vos livres vont sortir en France, vous voyez-vous rencontrer vos fans Français un jour ?
Je suis venue en France il y a six ans, et c'était très sympa. La nourriture était divine, et c'était aussi très relaxant et plaisant, c'était aussi un vrai régal pour l'esprit, avec toutes les galeries d'art et les musés. J'aimerais simplement passer des jours dans les petits villages et alors avoir l'opportunité de revenir un jour. Cela combinerait deux de mes amours – voyager et parler de livres, alors croisons les doigts que j'en ais la chance.
Merci de m'avoir eu. J'espère que vous aimerez mon monde Londres la Ténébreuse.
———–
Website: http://www.becmcmaster.com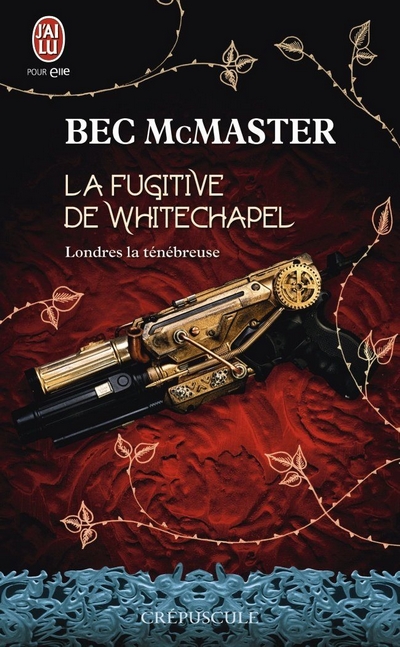 Londres la ténébreuse, Tome 1

Résumé (traduction personnelle) : Lorsqu'il n'y a aucun endroit sûr

La plupart des gens évitent le redoutable quartier de Whitechapel. Pour Honoria Todd, c'est le dernier refuge. Mais à quel prix?

Blade est connu comme le maître des colonies – et personne n'ose le chercher. Il a été dit qu'il avait affronté l'armée de l'Echelon à lui seul, que depuis qu'il a été infecté par le sang il est plus rapide, plus fort, et presque immortel.

Quand Honoria se présente à sa porte, son contrôle ténu est prêt à craquer. Elle est tellement … innocente. Il ne voit pas son épine dorsale en acier ou le fait qu'elle pourrait être le salut même qu'il cherche.