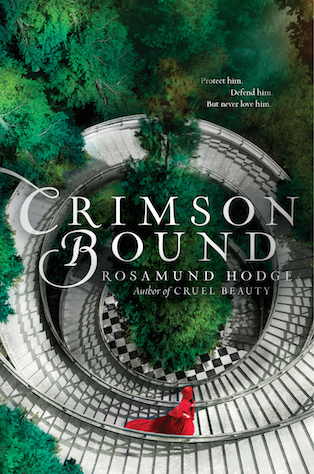 Synopsis: When Rachelle was fifteen she was good—apprenticed to her aunt and in training to protect her village from dark magic. But she was also reckless— straying from the forest path in search of a way to free her world from the threat of eternal darkness. After an illicit meeting goes dreadfully wrong, Rachelle is forced to make a terrible choice that binds her to the very evil she had hoped to defeat.

Three years later, Rachelle has given her life to serving the realm, fighting deadly creatures in an effort to atone. When the king orders her to guard his son Armand—the man she hates most—Rachelle forces Armand to help her find the legendary sword that might save their world. As the two become unexpected allies, they uncover far-reaching conspiracies, hidden magic, and a love that may be their undoing. In a palace built on unbelievable wealth and dangerous secrets, can Rachelle discover the truth and stop the fall of endless night?
Review: I tried the previous novel of the author in audiobook but even if I had enjoyed it all, it's true that the time it took me to listen to it was a bit too much for me. So with the release of this new novel, another rewriting tale, I thought that it was an opportunity to try something else this time in writing form. The story reminds me a lot of "Cruel Beauty" on many issues but that did not stop me from having a good time. Besides, I did not say that, but Rosamund Hodge managed to create an original and different tale from little red riding hood and I confess that the ideas are very interesting.
Rachelle's life has completely changed the day she had trusted the wrong person in the woods, and when she has been transformed into something evil. But now, even if she knows that she is damned and destined to end up in hell, Rachelle is determined to do everything to save humans and keep the world as it is. The only problem is that the heart of the Forest, a dark, demonic force is going to wake up and it seems that she is the only one to really believe about that fact and therefore the only one who wants to stop it. She may have the opportunity to find out the necessary weapon for this quest while accompanying and protecting Armand, one of the king's son, to the castle where he must go. A journey she doesn't really want to do at first, but it will nevertheless bring her a lot of answers. But the dark force approaches much faster than she previously thought and Rachelle does not know if she will have the time to save all the people she loves (though this number is very limited).
The story was very interesting even if it is true that as I said at the outset, many things made me think Cruel Beauty, i.e. the romance, the characters or even this door they're looking for in the castle where Rachelle is. But this is not really a problem because the ideas are very interesting and I loved the story that the author presents us here. Rachelle is a girl who is very familiar with her condition but who nevertheless tries to do the best. Sometimes she is a little weird but it's understandably due to her loneliness. We will meet two boys around her, Armand and Erec. Ah, these two men are very different from one another and it is very difficult to identify what they really want. Indeed, we do not understand what they desire, what they want and if our heroine can finally trust them. I must say that when we allow ourselves to believe in them, an event changes everything and shows us that we were wrong. In the end I was very surprised by them because the author manages to surprise us many times.
So yes, it was a very interesting book with a really rich universe that I enjoyed discovering and I am curious to read more of her writings. If you liked "Cruel Beauty", I am sure you will be delighted by this new novel. So many things happen in the story and I took a great pleasure in discovering the whole. Myths changed like never in an original way.