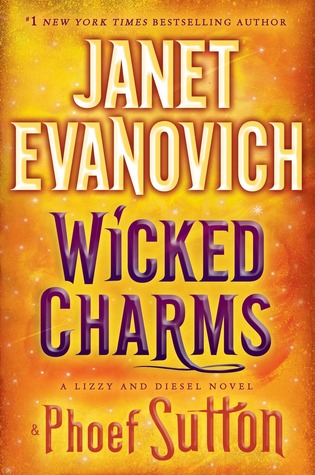 Lizzy & Diesel, Book 3
Synopsis: Murdered and mummified more than ninety years ago, bootlegger Collier "Peg Leg" Dazzle once found and re-hid a famous pirate's treasure somewhere along the coast of New England. A vast collection of gold and silver coins and precious gems, the bounty also contains the Stone of Avarice — the very item reluctant treasure seeker, Lizzy Tucker, and her partner, Diesel, have been enlisted to find. While Lizzy would just like to live a quiet, semi-normal life, Diesel is all about the hunt. And this hunt is going to require a genuine treasure map and a ship worthy of sailing the seven seas . . . or at least getting them from Salem Harbor to Maine.

Greed is eternal and insatiable, and Lizzy and Diesel aren't the only ones searching for the lost pirate's chest. There are people who have dedicated their entire lives to finding it, and are willing to commit murder or make a deal with the devil, just to hold the fortune in their hands. One of those people may even be Wulf, Diesel's deceptively charming and enigmatic cousin. Wulf desires the Stone of Avarice. He also desires Lizzy. It's hard to say how far he's willing to go to gain either one.

It's a swashbuckling adventure full of raiders, monkeys, minions, and mayhem. Lizzy and Diesel are going to have to do everything they can to keep their heads above water and hope they are living a charmed life.
Review: I always enjoy the Janet Evanovich's novels as they allow me to spend a great time every time. Also, I was curious to read this third volume. It's true that I perhaps prefer her Stephanie Plum (the Lizzy & Diesel series is the spin off from these books) or the Fox and O'Hare series but this one is still very nice too.
We thus find our heroes, launched on a whole new adventure. Lizzy is equal to herself, trying to live a quiet life despite the upheavals in her life. Yet as soon as Diesel reappears, everything changes and our heroine finds herself, as always, engaged in a strange quest. Indeed, during a museum visit, Lizzy comes to face with a mummified treasure hunter, long disappeared. He is known to have found a highly sought pirate treasure and it seems now that everyone is trying to find it with little chance of success. But this time, it's up to Lizzy and Diesel to chase the famous treasure, and through their skills, they may well succeed where no one has. And as they embark on this new quest, they will face Wulf who is also determined to get his hands on the loot, as well as a historian or a mad billionaire.
It was a very nice story to follow and it's always a treat to find all the characters we have come to discover. A bit like for Sptehanie Plum, we remain alert to the relationship that the young woman has with the two men. Yes, because it must be said that they are not devoid of charm and both seem interested in Lizzy. Indeed it may well be that all three need come together to a common goal here and I admit that it was pretty funny to see the whole. I was also curious to discover the treasure, to see what everyone coveted. And it is true that the discovery was pretty epic. After, I think that the execution of the story is perhaps a bit long and may lack of a certain something to make you feel more compared to the novel. But I think it's a good story for a good time, especially in summer.