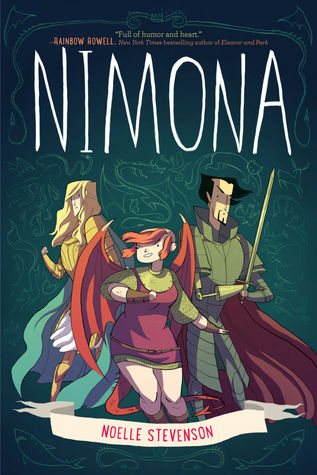 Synopsis: Nimona is an impulsive young shapeshifter with a knack for villainy. Lord Ballister Blackheart is a villain with a vendetta. As sidekick and supervillain, Nimona and Lord Blackheart are about to wreak some serious havoc. Their mission: prove to the kingdom that Sir Ambrosius Goldenloin and his buddies at the Institution of Law Enforcement and Heroics aren't the heroes everyone thinks they are.

But as small acts of mischief escalate into a vicious battle, Lord Blackheart realizes that Nimona's powers are as murky and mysterious as her past. And her unpredictable wild side might be more dangerous than he is willing to admit.
Review: Before reading the comic, I had the opportunity to see many wonderful reviews about it. This is something that first intrigued me without even knowing the details of the summary and it's true that this is the reason why I expected a lot of the story.
I was initially quite surprised by the illustrations from the first pages. Everything is quite different from what I had seen so far and even if everything is mastered, I confess that I didn't really connect to them. Yet past few chapters, we get into the story and we follow it with pleasure. Moreover, in this regard, we follow a villain, which is also not that bad, his new sidekick who wants to kill everyone and a hero, an enemy/friend of the villain, Lord Blackheart .
Nimona is a mysterious young girl who does not really reveal her past but she has the ability to change shape at will, something quite extraordinary and very practical in combat. Lord Blackheart is quite surprising when we see that he lives according to well established rules to stay within the limit of decency, but this is also a great scientist that we follow in his experiments. By cons, it is true that I liked the fact that, for once, the famous heroes are the ones to watch out, they are not necessarily the most white persons and we discover through our two characters what is really happening.
I spent a good time with the story but as I said, I was expecting a lot from this comic and I was a little disappointed. It is good but I expected more for the story. However, I advise you to try it, it is something very different from what we usually find.