Stacking the Shelves is a meme hosted by Tynga's Reviews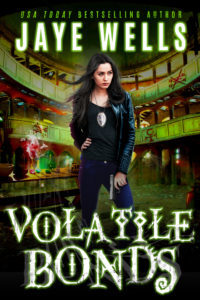 Volative Bonds (Prospero's War, 4) – Jaye Wells
When the Magic Enforcement Agency is called out to the scene of a dirty magic explosion, a body with a bullet wound is found in the smoldering ruins. As Detective Kate Prospero and her partner, Special Agent Drew Morales, hunt down the killer, they uncover evidence that a dangerous new coven may be operating in the Cauldron.
It's not long before the bodies start piling up, and the heat is on for the team to make an arrest. Solving the murders will require unraveling dangerous alliances between the city's dirty magic covens. And if they're not careful, the new complexities of Morales and Prospero's own partnership threaten to make a volatile situation downright deadly.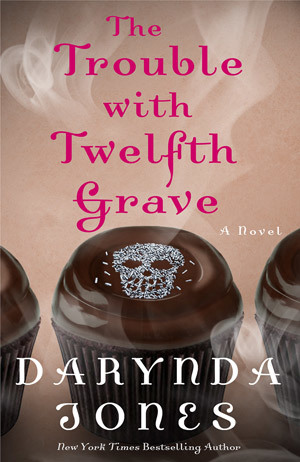 The Trouble with Twelfth Grave (Charley Davidson, 12) – Darynda Jones
Grim Reaper Charley Davidson is back in the twelfth installment of Darynda Jones' New York Times bestselling paranormal series.
Ever since Reyes escaped from a hell dimension in which Charley accidently trapped him, the son of Satan has been brimstone-bent on destroying the world his heavenly Brother created. His volatile tendencies have put Charley in a bit of a pickle. But that's not the only briny vegetable on her plate. While trying to domesticate the feral being that used to be her husband, she also has to deal with her everyday life of annoying all manner of beings—some corporeal, some not so much—as she struggles to right the wrongs of society. Only this time she's not uncovering a murder. This time she's covering one up.
Add to that her new occupation of keeping a startup PI venture—the indomitable mystery-solving team of Amber Kowalski and Quentin Rutherford—out of trouble and dealing with the Vatican's inquiries into her beloved daughter, and Charley is on the brink of throwing in the towel and becoming a professional shopper. Or possibly a live mannequin. But when someone starts attacking humans who are sensitive to the supernatural world, Charley knows it's time to let loose her razor sharp claws. Then again, her number one suspect is the dark entity she's loved for centuries. So the question becomes, can she tame the unruly beast before it destroys everything she's worked so hard to protect?
Hollywood Dirt (Hollywood Dirt, 1) – Alessandra Torre
Le superbe acteur Cole Masten divorce de sa femme, superstar elle aussi. Le mari parfait est maintenant le célibataire le plus sexy d'Hollywood qui se lâche dans des fêtes torrides. Un nouveau bad boy règne sur Los Angeles.
Summer Jenkins est une jolie jeune fille blonde aux yeux noisette qui vit dans un bled paumée de Georgie qui la rejette.
Et quand l'avion de Cole Masten atterrit sur l'aérodrome de campagne, tout le monde regarde déambuler cette star dans la ville et reste ébahi. Cole Masten vient visiter le lieu de son prochain tournage et amène Hollywood avec lui.
Et quand son chemin croise celui de Summer, elle saute sur l'occasion pour se faire embaucher.
Cole Masten est un sex-symbol et toutes les femmes craquent pour lui. Toutes les femmes sauf Summer qui n'aime pas son arrogance et sa manière de parler.
Mais là, il va être son patron pour les quatre prochains mois…