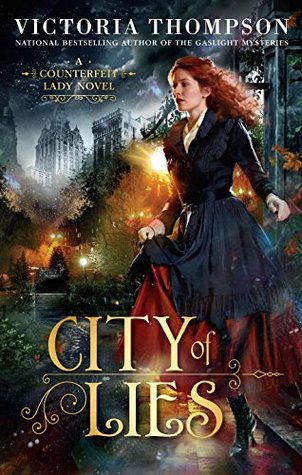 Counterfeit Lady, Book 1
Synopsis: Elizabeth Miles scours 1920's Washington, D.C. for a killer in the first Counterfeit Lady novel from the author of the New York Times bestselling Gaslight mysteries.

Every woman plays a part—but some are more dangerous than others…

Like most women, Elizabeth Miles assumes many roles; unlike most, hers have made her a woman on the run. Living on the edge of society, Elizabeth uses her guile to relieve so-called respectable men of their ill-gotten gains. But brutal and greedy entrepreneur Oscar Thornton is out for blood. He's lost a great deal of money and is not going to forgive a woman for outwitting him. With his thugs hot on her trail, Elizabeth seizes the moment to blend in with a group of women who have an agenda of their own.

She never expects to like or understand these privileged women, but she soon comes to respect their intentions, forming an unlikely bond with the wealthy matriarch of the group whose son Gabriel is the rarest of species—an honest man in a dishonest world. She knows she's playing a risky game, and her deception could be revealed at any moment, possibly even by sharp-eyed Gabriel. Nor has she been forgotten by Thornton, who's biding his time within this gilded orbit, waiting to strike. Elizabeth must draw on her wits and every last ounce of courage she possesses to keep her new life from being cut short by this vicious shadow from her past.
Review: I must say that I did not know about the novel at all but I really had a great time with the story. What to say? Everything seemed fantastic!
We discover Elizabeth Miles, a young girl who used to live on the margins of society. With her friends, she usually organizes scams to steal money from dishonest rich men. But while she usually does not have problems after these acts, the latest victim is far from appreciating it. Determined to find Elizabeth and to force her to return his money, or even to kill her, he will pursue her without respite. Yet the young woman, full of resources, does not hesitate to place herself in a feminist manifestation that demands the right to vote in order to escape her pursuers. Putting herself as a woman she is not, she gets arrested by the police and she is sent with all the others to jail. And you suspect that she is one of the only girls who absolutely wants to stay there to be safe. But then, under these conditions, she did not expect to connect so easily to Anna, a young febrile woman or to the matriarch of the group for which she will have great esteem. Elizabeth will help them understand how to act in jail and she will watch over them as best as she can. In parallel, we discover Gabriel, the son of the matriarch who arrives in town determined to save these young women. Thornton, allying himself with him, is also very interested to get them out!
I will not say more because it would be very easy to tell you everything but I can tell you that this novel is a pretty little pearl. I loved to follow Elizabeth, see her change at the touch of these young women and see her regret not to be a better person. It was also really interesting to have such a big part devoted to the cause that these women fight for! It was fascinating to have such a theme and it is true that we realize what these women have suffered a lot in order to advance their rights.
It was really a great story and I loved all the characters, be it Gabriel is his frankness, Elizabeth and her scams, Thornthon and his wickedness, Anna and her naïveté, and many other things that I'll leave you discover!