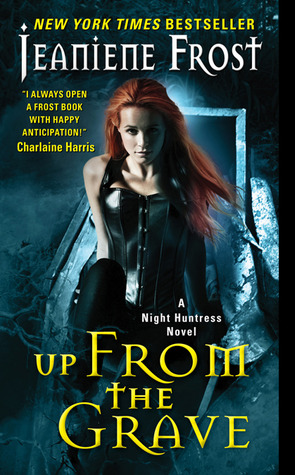 Night Huntress, Book 7
Synopsis: There's always one more grave to dig

Lately, life has been unnaturally calm for vampires Cat Crawfield and her husband, Bones. They should have known better than to relax their guard, because a shocking revelation sends them back into action to stop an all-out war . . .

A rogue CIA agent is involved in horrifying secret activities that threaten to raise tensions between humans and the undead to dangerous heights. Now Cat and Bones are in a race against time to save their friends from a fate worse than death . . . because the more secrets they unravel, the deadlier the consequences. And if they fail, their lives—and those of everyone they hold dear—will be hovering on the edge of the grave.
Review: This is the final book in the Night Huntress series and it is true that I was curious to find out the whole story. However, certain points made ​​me a little anxious … Indeed, the latest volume of a series is always very difficult to write to content all readers and I was afraid of being disappointed by it… But that's not all because the sixth volume was a little less interesting than others and I was afraid that it may be the same with this one. But I can tell you that I was wrong and Jeaniene Frost presents us with a very good final book.
Cat and Bones continue their lives quietly, trying not to attract attention until they learn that Tate and the gang disappeared without a trace. While our couple is determined to understand what is happening, they are at the heart of a story about secret researches for the government. But in order to save her friends, Cat will have to ask for help to all her allies to thwart the plans made for her. But it will not be easy, and even far from that because this adventure will be more explosive and lively than expected.
I loved to follow this new story. Cat and Bones will have to excel here as many surprises await them. I admit that I really enjoyed seeing all the characters that we had the chance to discover throughout the novels. Yes we do! You heard right, ALL the characters are present, Vlad, Spade, Ian, Marie, Tate, Don, Denise and many others … Even if some do not have a great impact on the story, it is always a pleasure to see them again. Together, they will find a way to infiltrate a secret laboratory. They could also find here a new character who could impact on their lives.
Cat has evolved over the novels but nothing could stop her once she has an idea in mind. Yet it also puts her in rather dangerous situations and even if she sometimes acts at odds with Bones, they are always there for each other. There is no dead time in the story and I loved the ending to the novel. Everything was really well done and I am very happy to have discovered this last volume. It was a nice surprise for me and I'm sad to leave the characters behind me now.