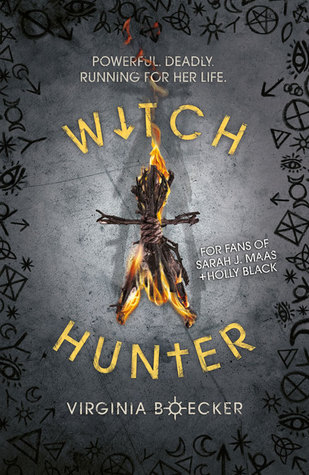 The Witch Hunter, Book 1
Synopsis: Sixteen-year-old Elizabeth Grey doesn't look dangerous. A tiny, blonde, wisp of a girl shouldn't know how to poison a wizard and make it look like an accident. Or take out ten necromancers with a single sword and a bag of salt. Or kill a man using only her thumb. But things are not always as they appear. Elizabeth is one of the best witch hunters in Anglia and a member of the king's elite guard, devoted to rooting out witchcraft and bringing those who practice it to justice. And in Anglia, the price of justice is high: death by burning.

When Elizabeth is accused of being a witch herself, she's arrested and thrown in prison. The king declares her a traitor and her life is all but forfeit. With just hours before she's to die at the stake, Elizabeth gets a visitor – Nicholas Perevil, the most powerful wizard in Anglia. He offers her a deal: he will free her from prison and save her from execution if she will track down the wizard who laid a deadly curse on him.

As Elizabeth uncovers the horrifying facts about Nicholas's curse and the unwitting role she played in its creation, she is forced to redefine the differences between right and wrong, friends and enemies, love and hate… and life and death.
Review: I am always attracted to themes featuring witches and I confess that I was even more intrigued when I saw that the novel was approaching witch hunters. It is not necessarily what is most emphasized in books and I was curious to see how the author would do that.
Elizabeth is a very good hunter and she remains loyal to her king and his decisions. Since the death of her parents, due to a magical plague, the girl hates anything related to magic and remains convinced of the validity of her actions, or at least until she is find with some herbs in her pockets one evening and is therefore accused of witchcraft. Sent to prison to be executed, she is rescued in extremis by the last person she thought she could meet, Nicholas Perevil, the sorcerer's most wanted in Anglia, who is believed to have launched this plague and killed the former king. But then, while accompanying Nicholas, Elizabeth will discover that appearances can be deceptive and the truth could completely change her beliefs, her world and her loyalty.
I loved the novel, we are quickly carried away by the story and the characters. I struggled to put the book down and not to chain all the chapters the ones after the others. Regardless, it is true that this is not necessarily a very original theme but the author perfectly managed to captivate us throughout the history. I enjoyed discovering Elizabeth, this is a young woman who is very strong and yet very vulnerable too. Her world is turned completely upside down in a short time and yet she rises to confront her demons. Fortunately for her, she will be joined by some other characters we also appreciate very quickly and despite some a priori, they will always be there for her when she needs it. We discover George, a boy who became a very good friend of the girl, or John, the healer with a sad past or even Fifer, the teenage Witch of the great Nicholas. But that is not everything and I confess that I loved to discover more about each of them. And it's also true that we also have Caleb, the childhood friend of our heroine, but also another witch hunter who seems more interested in his ambition than the rest.
Yes, many events take place here and it is true that I was surprised by some twists. I think I can say that it was a very good first novel, a good introduction and I confess that I am now very curious to read more and find out what the author will present us later.