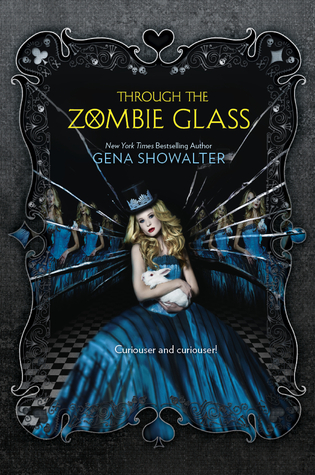 White Rabbit Chronicles, Book 2
Synopsis: Zombies stalk the night. Forget blood and brains. These monsters hunger for human souls. Sadly, they've got mine…
Alice Bell has lost so much. Family. Friends. A home. She thought she had nothing else to give. She was wrong.
After a new zombie attack, strange things begin to happen to her. Mirrors come to life, and the whispers of the dead assault her ears. But the worst? A terrible darkness blooms inside her, urging her to do very wicked things.
She's never needed her team of zombie slayers more, but ultra bad-boy Cole Holland, the leader and her boyfriend, suddenly withdraws from her…from everyone. Now, with her best friend Kat at her side, Ali must kill the zombies, uncover Cole's secret and learn to fight the darkness.
But the clock is ticking…and if she fails at a single task, they're all doomed.
Melliane's Review: I did read the first volume when it was released in English and that's true that I had a great time with the story. But when the sequel came out, I did not really take the time to get into the book. Yet when I saw the second novel on Netgalley, in French, I thought that it was a good opportunity to immerse myself in the story once again.
So we find our dear Ally trying to cope with the death of her family and her new zombie hunter condition. It took me a little time to get into the story, but I think that it's mostly because I've never read an ebook in French. However, once this change made, I spent a great time with the story and I enjoyed learning more about Ally and to see the evolution of what she was capable of. But our heroine is sought more than ever by Anima and it seems that her uniqueness is much more complicated than expected. Bitten by a zombie, Ally must now manage a split of personality, a zombie part that has decided to take power and to do what she wants. We witness a terrible battle inside our heroine, she is scared of losing and the consequences could be fatal to all her friends. But in addition to this, a vision pushes Cole to break with Alice and the latter has to manage more than expected, especially the sadness she did not think she would feel.
As I said, I had a good time with the story, to see Ally evolve, to discover all she was capable of and her desire to protect her friends. We also learn a little more about Anima and what they can do to achieve their goals. In any case, we are introduced to a very good second volume, new characters and it was a pleasure to discover them. I'm curious now to read the third book to see what will happen later! A good second volume to discover!


Inessa's review: The story takes place just after the events we saw in book 1. In the previous volume, Ali was seriously injured in the last battle between the zombie slayers and Anima Industries. So we find here Ali trying to recover gradually. She would like to train and fight again with the other zombie slayers but Cole does not agree. Meanwhile, Gavin and Veronica -two other zombie slayers- make their appearance and they bring with them their own set of uncertainties and problems that will affect the relationship between Ali and Cole and raise tensions between the young couple.
This book focuses largely on the difficulties that Ali and Cole are dealing with in their relationship, especially after the arrival of Gavin but also Veronica, Cole's ex-girlfriend who is determined to get him back. Ali will face difficult times. Her relationship with Cole is really in turmoil as he moves away and behaves strangely. Moreover Ali has to cope with the changes occurring inside her. Indeed the fight against AZ -her evil alter ego- is a constant battle in which the teenager leaves her forces gradually. But that's not all because a problem always leads to another. Zombies are becoming stronger and hungrier. The fights are more intense. Then there is Anima Industries, a powerful organization that does not skimp on the means to achieve its goal: study the zombies in order to eventually use them as weapons. And the least we can say is that they are determined to do so but could there be any other reasons behind this? It was quite disturbing to see our young heroine suffering throughout the novel and wondering how she will overcome all these problems because there are no moments of respite.
Ali is a strong and a fragile heroine at the same time but she does her best to hide her vulnerability. And considering all that she has to endure in this book, she is also a very brave girl. Fortunately, Ali can count on the support of her best friends, Kat and Reeve, especially Kat who will always be there for her despite everything that happens to her, even if it means to upset the others. I really like this character. Kat is a girl full of life who manages to remain always the same no matter what happens to her. But it is not easy for her either and we find ourselves hoping that something positive happens to her.
Concerning the other characters, there is also Ali's grandmother, who tries to help her granddaughter as best as she can and I must say that sometimes I was disappointed by Ali's bad behavior towards the only living member of her family. Then, Emma (Ali's little sister) also makes a few appearances and I confess that I would have liked to know a little more about her and the world where she is now. I think if there was a spin-off with her as the main character, it would be a very good thing. Another character who caught my attention is Gavin. I found him interesting although he is a notorious womanizer.
The world created by the author is still fascinating and we do not get bored for a second. I like Gena Showalter's writing style and her fluidity in this series. From the very first pages we are completely dived into the story and its rhythm.
In conclusion, I found this book was better than the previous one (even if I really liked it) and after reading the synopsis of book 3 on Goodreads, I can tell you that I can't wait to have it! It's a very good series that I recommend to everyone.