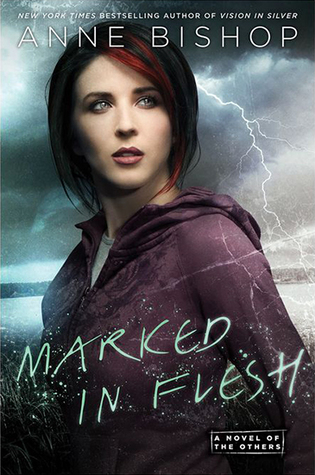 The Others, Book 4
Synopsis: For centuries, the Others and humans have lived side by side in uneasy peace. But when humankind oversteps its bounds, the Others will have to decide how much humanity they're willing to tolerate—both within themselves and within their community…

Since the Others allied themselves with the cassandra sangue, the fragile yet powerful human blood prophets who were being exploited by their own kind, the delicate dynamic between humans and Others changed. Some, like Simon Wolfgard, wolf shifter and leader of the Lakeside Courtyard, and blood prophet Meg Corbyn, see the new, closer companionship as beneficial—both personally and practically.

But not everyone is convinced. A group of radical humans is seeking to usurp land through a series of violent attacks on the Others. What they don't realize is that there are older and more dangerous forces than shifters and vampires protecting the land that belongs to the Others—and those forces are willing to do whatever is necessary to protect what is theirs…
Review: Ah Meg Corbyn … As soon as we finish a book, we can only wait for the next one with great impatience and it is a vicious circle that never ends. Yes, I can tell you that this is something very difficult, but every time we have such a wonderful time that we forget that we had to be very patient. It must be said that Anne Bishop has an undeniable talent and she always has wonderful stories that take us completely away, like this new novel. No, with her, there is no doubt as to whether the next volume will match the previous one because they are always fascinating. Besides, I can only strongly advise you to dive in the first volume of the series, you will not be disappointed!!!
Returning specifically to the story. The previous novel had shown us the escalation of the violence between humans and Others and it's true that I was very curious to see all the consequences of these actions. But it is true that ultimately the war is declared and even if we have no doubt about the winners, we wonder what will happen to get there. As in the previous volume, we find all the characters we've come to know so far and even if it's true that I struggled to manage the number of characters in the last book, it was a bit easier this time even though I mixed them from time to time with Joe and Jackson. But this is only a minor detail and I took a great pleasure in discovering the whole story. Moreover, it is sad to see so many sectarianism between humans and to finally see them fight each other (well, you could tell me that it does not change in real life, but it's still quite sad).
We do not see much Jean this time, but we discover a little more about Hope, about her adaptation of her new environment and her way of having visions. It's very interesting to see the dynamic between all Cassandra sangue and to understand that there are still many opportunities for them to discover. Of course, we also find our Courtyard Lakeside and all its members, and this is how we see the continuity of this association with the humans and what they will be willing to do for them. We understand their fear of getting lost in a being they hate and yet they can not assimilate all. But we also have the chance to discover other characters, other places and to see how humans and Others interact, to observe how much Simon and Meg inspired them and eventually how they are able to protect each other.
This is not a simple book, the war is declared and like all wars nothing is easy or pink and we wait, hoping that everything will be fine for our characters even if it is not always the case. Finally you will find that a lot of events are presented here and we wonder what will happen later after all that. I had a lot of fun discovering new Others characters and to see how they acted. And I am curious to see if we'll see them again soon.
In all cases it was once again a wonderful volume (so fantastic) and I'm really curious to read the following (did I not say that it was a vicious circle?) to find out more. I advise you again to discover the series if this is not done, Anne Bishop has an undeniable talent to present unique and fascinating stories. And this end? Aaaah I want more !!!!