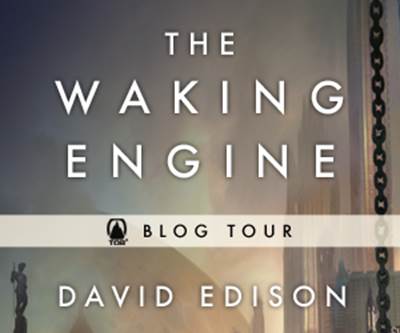 Hey everyone, we're happy today to welcome David Edison, the author of The Waking Engine, a new wonderful book. If you want to disocver a review, you can check ours here. Intriguing, right?
————–
Hello, Between Dreams and Reality!  I am David Edison, author of The Waking Engine, my firstest book ever.  I've been asked to write about either my characters or my setting, and I'm going to do both. I hope that's okay!  Writing the City Unspoken was the biggest characterization challenge in the project, because the city is the biggest character in the project.  She's a sprawling mega-city at the end of the multiverse, and so by necessity and design she needed to incorporate aspects of our greatest cities, our worst cities, our ideal cities, and our city nightmares.
I saw a city that had Rome's millennia-old fountains, the imperialist obelisks of Paris, the buzzing sprawl of Tokyo and the flowering-weed-choked waterways of Bangkok. Also the ruined mystery of Les Baux, the horror and beauty of sailing into Santorini's caldera at sunrise, and on and on.  The cliffs of the Ngorongoro Crater in Tanzania, the switchback heights of the Amalfi coast, and the architectural whimsy of Barcelona.  What's more, I began to see a city that I could only understand through incomplete snapshots, because all the cities and vistas of Earth were only part of its character.  Would it be directly descended from us?  Yes, but also from uncountable others, written and re-written by the people of every world, who would eventually find themselves in the City Unspoken.
Now, that's what I saw.  I'm still learning how to share what I see with readers, and I will have succeeded or failed from reader to reader.  I don't harbor any illusions about "getting it right on the first try," which is a kind of disingenuous maguffin anyway: "getting it right" is a figment and "on the first try" is terribly misleading for someone who's been writing fiction since 1st grade, even if it is his first actual book.
I'm a pantser, which means I write by the seat of my pants and am terrible at plotting things out ahead of time.  This, traditionally, is not the best type of person to put in charge of real cities. Fictional cities, thankfully, demand different strengths from their creators.
The City Unspoken was the first character I wrote about, for this book.  I'm one of those artsy writers for whom characters are very much real, and they act independently from me.  I felt that kind of insistence with the city.  It wanted to be a layer cake of overlapping city-views, with more history behind it than any of its residents could hold in their heads.  I have Stephan Martiniere to thank for realizing that vision on the cover, which makes me glow whenever I look at it.
But at the beginning, before I had any clue where I was headed, all I knew was what I uncovered for myself as I wrote.  I wanted known districts branching out from a central hub, but I also wanted dead space, and also unexplored space.  That is, I wanted to explore some districts in this book, save others for later out of pure necessity.  I also knew there would be whole districts that had been lost for generations, and reclaimed territories that were repurposed from their previous lives.
I remember visiting Prague shortly after the Iron Curtain fell, and noticing how people had reclaimed the city in strange but lovely ways: a cafe in an old marble bank vault, a bar in a former art gallery.  There was this interesting mix of recognizable consumer culture, a disconnect from its own history, and a squatter's pragmatic approach to getting through the day/week/lifetime.  Prague is there, too.
As I went on, I codified and mapped out the city and its districts – I know about 70% of the city, at this point.  (My editor didn't feel the need for a map in the book and I agree, I don't think it's necessary to tell the story. But I know many readers who still want one, and I am working on it.  Hopefully we'll get one up on my website.)  I haven't decided how much of the city will be revealed by the end of the story, which will be four books long – but I'm more than halfway through the second book, and watching the City Unspoken become ever more alive and ever more self-evident is a wonderful feeling.  I hope you join me there.
Synopsis: Welcome to the City Unspoken, where Gods and Mortals come to die.

Contrary to popular wisdom, death is not the end, nor is it a passage to some transcendent afterlife. Those who die merely awake as themselves on one of a million worlds, where they are fated to live until they die again, and wake up somewhere new. All are born only once, but die many times . . . until they come at last to the City Unspoken, where the gateway to True Death can be found.

Wayfarers and pilgrims are drawn to the City, which is home to murderous aristocrats, disguised gods and goddesses, a sadistic faerie princess, immortal prostitutes and queens, a captive angel, gangs of feral Death Boys and Charnel Girls . . . and one very confused New Yorker.

Late of Manhattan, Cooper finds himself in a City that is not what it once was. The gateway to True Death is failing, so that the City is becoming overrun by the Dying, who clot its byzantine streets and alleys . . . and a spreading madness threatens to engulf the entire metaverse.
Thanks to the publisher, you can win one copy of The Waking Engine. The giveaway is open to US&CAN only.