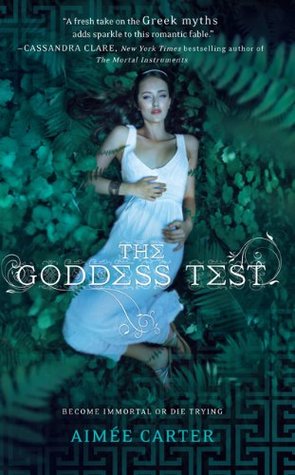 Goddess Test, Book 1
Synopsis: Every girl who has taken the test has failed.

Now it's Kate's turn.

It's always been just Kate and her mom–and now her mother is dying. Her last wish? To move back to her childhood home. So Kate's going to start at a new school with no friends, no other family and the fear her mother won't live past the fall.

Then she meets Henry. Dark. Tortured. And mesmerizing. He claims to be Hades, god of the Underworld–and if she accepts his bargain, he'll keep her mother alive while Kate tries to pass seven tests.

Kate is sure he's crazy–until she sees him bring a girl back from the dead. Now saving her mother seems crazily possible. If she succeeds, she'll become Henry's future bride, and a goddess.

If she fails…
Review: I heard great things about this book and I was very curious to be able to start it. I must say that I am a big fan of mythology (hey I did 5 years of Latin language). So we can say that mythology and I, know each other pretty good but it is always a pleasure to discover more (anyway I forget everything so quickly …). However, I was initially apprehensive before reading all these nice reviews, but once in the story, I could not stop before finishing it. Well, fortunately we can read it quickly, otherwise it would have been problematic.
Kate goes to the city of Eden with her mother who is ill and wants to finish her last days in the city of her childhood. But it's so hard for her and even if she loves her mother, it is unbearable to see her go like that without being able to help her. She must, however, continue her life and go to school although this doesn't interest her. She will meet some people who will help her bear her burden but everything changes the day she meets Henry. This mysterious boy who is far from what he seems to appear. Our heroine, because of certain circumstances, will have to live at the young man mansion who claims to be Hades, but it also comes with a price.
Yes her life will change dramatically overnight and she will end up in a role she never asked but she will also evolve much through it all. This is a very interesting character to follow, indeed, she only wants to do good around her and is unable to settle in her decisions. But she will change over the novel and she will try to learn to live without her mother, something very complicated. It was touching to see her change at the Henry's contact, to see both evolve as they learn more about each other. The other characters are also very interesting to discover and I'm always amazed to see how we hate Ava at first to appreciate her thereafter. Aimee Carter reserves us many surprises in this book and I was surprised more than once even if I think you need to read the book to understand what I mean.
This novel was in any case a very nice surprise, much more than I originally thought and I am curious to read more now. Myths are included and changed and I know it bothered some but I enjoyed what the author did. I find it interesting to have different perspectives like that.