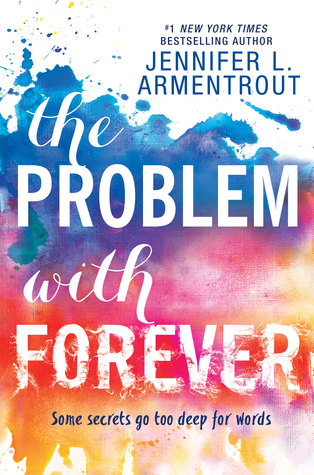 Synopsis: Growing up, Mallory Dodge learned that the best way to survive was to say nothing. And even though it's been four years since her nightmare ended, she's beginning to worry that the fear that holds her back will last a lifetime. Now, after years of homeschooling, Mallory must face a new milestone—spending her senior year at a public high school. But she never imagined she'd run into Rider Stark, the friend and protector she hasn't seen since childhood, on her very first day.

It doesn't take long for Mallory to realize that the connection she shared with Rider never really faded. Yet soon it becomes apparent that she's not the only one grappling with lingering scars from the past. And as she watches Rider's life spiral out of control, Mallory must make a choice between staying silent and speaking out—for the people she loves, the life she wants and the truths that need to be heard.
Review: This is a novel I did not know about at all. My great friend Céline who liked it was very kind to offer me a copy so that I can also discover the story as well. I can tell you that I now have an infinite gratitude! Oh yes! I would like to have more chance to come across this kind of gem. This book is amazing and intense and I can only advise you to try it because I had a great time. It's not an easy story, it's a story of reconstruction, loopholes, love and acceptance.
We discover Mallory, a young girl who suffered a terrible abuse during her childhood and she still keeps the consequences in her today. Having been adopted by a stable and loving family, she progresses slowly and after spending 4 years homeschool, she returns to high school to finally make her final year. It's a huge change for her, something very difficult to do and she finds herself even more surprised when she finds the guy she never thought to see again. Rider, the boy who has always protected and saved her is there in front of her and the link between them has never been erased.
It was really an intense, moving story that takes you to the heart and takes you on a waltz that you hope will never end. Mallory and Rider are touching and their story is very beautiful and difficult. Some cracks are easy to see and others are hidden but always reappear at one time or another. I was proud of Mallory even if it was sad at times to see her doubt, question herself and especially to realize that she can not do it. Rider is more difficult to understand but we will discover little by little what he hides … However, the feelings they have for each other will propel them further than they would have thought. But it's not just them, and Mallory's best friend or Hector or Jayden are some characters that I also loved a lot! Yes, we easily fall in love with all these characters and it is also why it is difficult to leave the novel without having finished it. It is a beautiful story, which touched me a lot and I can only advise you to read it now! Thank you Céline !!!