Celine is a French blogger who writes some fictional reviews about the books she loves the most and they always make me laugh. I hope the humor even if translated is kept. Thanks for her reviews.
—————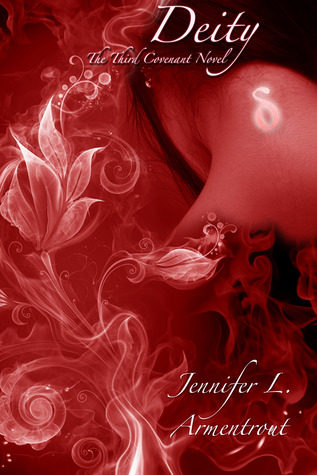 Covenant, Book 3
Synopsis: "History is on repeat, and things didn't go so well the last time. "

Alexandria isn't sure she's going to make it to her eighteenth birthday–to her Awakening. A long-forgotten, fanatical order is out to kill her, and if the Council ever discovers what she did in the Catskills, she's a goner… and so is Aiden.

If that's not freaky enough, whenever Alex and Seth spend time "training"–which really is just Seth's code word for some up-close and personal one-on-one time–she ends up with another mark of the Apollyon, which brings her one step closer to Awakening ahead of schedule. Awesome.

But as her birthday draws near, her entire world shatters with a startling revelation and she's caught between love and Fate. One will do anything to protect her. One has been lying to her since the beginning. Once the gods have revealed themselves, unleashing their wrath, lives will be irrevocably changed… and destroyed.

Those left standing will discover if love is truly greater than Fate…
Disclaimer: « The characters and situations in this story are fictional, any resemblance to existing persons and situations can only be coincidental »

For mémo: Episode 1 ; Episode 2 ; Episode 3 ; Episode 4 ; Episode 5 ; Episode 6 ; Episode 7 ; Episode 8 ; Episode 9 ; Episode 10 ; Episode 11 ; Episode 12 ; Episode 13
——————————————————
– Girls? Are you there? Hey, is there someone?
I adjust somehow my computer monitor in front of me. I've gathered all the materials that I could find at home, I did not hesitate to confront the spider's webs in the attic to unearth my old laptop. It makes the sound of a plane taking off, but it still works. My laptop, the one who likes to take the air on the roof of my car, a tablet bought for our cause, and even my mobile phone that I have configured on the wifi of the house, keep it company. I installed everything somehow on my too small desk and I'm now seated in my office chair, not without forgetting my precious cushion.
– Girls, I began to sing, you are theeeeere?
– Oh no, you said you did not sing! You're going to give us away!
Melliane's image appears on the screen of the laptop. Her crazy loops come before her eyes and she spreads them with a frantic gesture. Her sweetness matches her determination.
– Yes, we do not sing! We have more important to do, Le Chat continues, waving her hand, saying hello, while taking a sip of her hot chocolate drink.
Her black jogging suggests that she was to her Krav Maga training. We're taking our mission to heart. In our case, Johanne and I even gave up Nutella.
We have more important things to do, that's a fact. Operation "to-the-rescue-of-all-the-prohibited-books" begins. Today we are going to progress in our quest. We have set aside the recruitment of our army, to focus on an essential element, the pillar on which to rest. We need a second, a kind of leader for our troops, someone who supports us for strategic decisions. A Full Man. So, we'll do an advert.
– Well, are we doing it? Roanne requests clapping her hands. She fails to conceal the broad smile crossing her face. She is a woman of action, like all of us.
Strangely, all the girls found this advert idea great. Finding a common niche for our videoconferencing was as easy as crossing the street when there is shortage of gasoline. In thirty seconds everything was settled.
– What do we put in it? Cheshire Cat says annoyed.
– Yes, what do we put in it?
– "Group of young women is looking for young man to help them in a business of the utmost importance," Johanne attacks.
– A young, muscular and athletic man, who practices martial arts, Melliane says
– And agile, Le Chat exclaims, agility is important.
With the same breath, we all acquiesce. This is a very important criterion. Aiden and Alex are very agile. This is the key to deal with everything that is happening to them. The threat comes not only from the Daemons, always be wary of still waters and appearances.
– He must also be understanding, and tender… Roanne adds, just in case …
We agree Strongly. Fortunately Aiden is just who he is without being just a war machine, because otherwise, what would Alex be? Because the author does not manage this poor Alex, but then not at all.
– And he has instinct. We still have not found glasses to spot the bad guys.
Oh, instinct … Alex would have done better and listen to Aiden's rather than her own, which on this one was rather a bad counselor.
– Reliable, he must be reliable, Johanne adds with a serious air. I opine just as seriously as my short pen on the paper.
Reliability is the vault of any operation. Aiden is like that, and seeing the end of this volume (Oh my god, what a purpose!), It'll be even more important! Jennifer L. Armentrout really decided to play with my nerves … or with my nails that I have not spared during this reading.
– Well, I summarize: "Group of young girls are looking for a muscular and athletic young man to help them in a business of the utmost importance. Must be reliable, understanding and tender, and must have a great knowledge of martial arts, Krav Maga above. »
I frown and continue:
– Uh, girls … Are you sure it's an advert to find a spy? It looks like the description of the ideal man … It's missing a reference to his skills in the kitchen …
– A spy should be the ideal man … Le Chat strikes firmly.
It is true that with Aiden, it's a bit the ideal man …
Suddenly, the screens in front of me are blurred. A sizzling snow takes place indtead of my friends'
An inscription appears and is repeated on each screen:
Following a sacred path you'll have,
Stopping breathing, you'll do
To defeat the lion, lamb you'll become
Releasing the breaking, you'll achieve
But the end will not be one,
Just the beginning.
– Girls, I cried with a small voice, I think we have our prophecy!

Celine