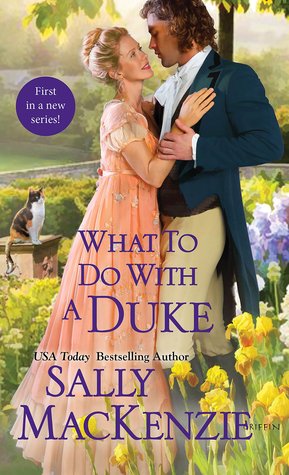 Spinster House, Book 1
Synopsis: Welcome to the charming, fatefully named village of Loves Bridge, where a woman destined for spinsterhood can live a life of her own choosing—or fall unexpectedly, madly in love…

Miss Isabelle Catherine Hutting would rather be lounging in the library than circling the ballroom in search of a husband any day. So when Cat hears that the town's infamous Spinster House is open for a new resident, she jumps at the chance to put all this marriage business behind her. But first she must make arrangements with her prospective landlord, Marcus, the Duke of Hart—the most handsome man she's ever seen, and the only man who's ever impressed her in the least…

With her wit, independent spirit, and not least of all her beauty, Marcus can't help but be stirred by Cat. It's terribly unfortunate he's not looking to marry, given the centuries-old curse that left his family with the Spinster House to begin with. No duke shall live to see his heir's birth. But is there a chance the curse could be broken—in true fairy-tale fashion—by an act of true love? The race to Happily Ever After is about to begin…
Review: Since I've discovered Sally MacKenzie, I always have a great time with her novels. The last two series she wrote were a delight to read and I was curious about this new one. I had the opportunity to read the novella last month and although in the end I was a bit mixed about it, I wanted to see how a complete story could be. Yes because it must be said that novellas are always a bit risky.
The novel continues after the end of the previous story and although it is not mandatory to have read it before launching into the story, it still places the environment and some characters that can be found here. We discover Cat, a young woman pressured by her mother to marry while she wants to live a quiet life, writing books. No, Cat doesn't want a man and she will do anything to make her dream happen. It may well be that luck turns in her favor when a place becomes available in the Spinster House, where it is possible for a young woman to keep her reputation while living as she wants to. But for this, she will first have to convince the Duke of Hart, Marcus, who has some very different problems. Indeed, it appears that his family is the victim of a curse and every married man dies before being able to see his child. Marcus is determined to remember what can happen and not to marry. Yet it seems that the curse can be broken if the Duke marries for love and not for convenience or power. Is it true?
That's where the two meet, a compelling link attracting the one and the other and it was interesting to see the dynamics of the two, between a woman who does not wish to marry, and a man who ultimately wants the same thing. Yet it may well be that both change their minds. But first they have to understand the curse.
I loved to follow this story and to discover at the beginning of each chapter the story of Isabelle, the young woman from which all started and to understand what had been happening. A sad story indeed that we do not expect the outcome at the end of the novel.
To conclude, although the plot itself sometimes seems a little long, I spent a good time with this first volume and I am curious to see what will result.