Nous sommes très heureuses aujourd'hui d'accueillir C.S. Pacat, l'auteure de la série Prince Captif, dont le premier tome "L'Esclave" et le second "Le Guerrier" sortent le 29 mai 2015 chez Milady Romance. Vous pouvez retrouver notre avis du premier volume ici. Merci à l'auteure qui a bien voulu répondre à quelques unes de nos questions. La traduction se trouve sous la version anglaise.
———-
We're very happy today to welcome C.S. Pacat, the author of the Captive Prince series. The first and second books are out there and the third will be there soon. Thanks to the author for answering our questions!
—————-
Welcome on Between Dreams and Reality, can you present yourself in a few words?
I'm an author, and a lover of antiheroes, princes, swordfights, intrigue, adventure and romance.
Did you imagine such a success for your series?
Never! I wrote Captive Prince for fun rather than for publication. I owe so much to my readers who supported the book so passionately when I self published in 2013. There was so much word of mouth that I was approached by a New York agent, and we ended up selling the book to Penguin USA, and to Bragelonne in France – as well as in multiple other countries. It still feels like a dream, and I am incredibly grateful to all of the book's readers and fans.
How would you describe the Captive Prince series?
Captive Prince is a fantasy series with an enemies-to-lovers romance between two princes of rival countries. The first book has a focus on palace intrigue and politics, as well as themes of power and intense sexuality.
Why did you decide to write a M/M story there? Is it more difficult?
I'm interested in writing homoerotica, and it's what I'm most drawn to as a reader. I don't think that it's more or less difficult, but I do think that it creates a different canvas, because it allows the exploration of interpersonal dynamics free from the historical politics of gender difference.
You have created a quite different world, how did come the idea up?
I wanted to write the book that I wanted to read. I love intense escapism, stories where you fall in love with the characters and the world. I love adventure, swordfights, chases, escapes, true love, intrigue, and homoerotica, themes of sex, power and sexuality.
Princes fascinate me, not in the fairytale sense, not Prince Charming in his palace. I like princes because they must displace someone else in order to become king. Princes are liminal, they are in a constant state of becoming. Displacement is an incredibly powerful theme to me, and I was immediately caught up by the idea of a prince who becomes a slave.
List 5 characters from Captive Prince and do word associations.
Laurent – Ice prince
Damen – Nobility
The Regent – Unstoppable
Nicaise – Broken glass
Jord – Steadfast
Who is your favorite character in the series?
I can't choose between the two heroes, but my favourite minor characters are Jokaste and Nicaise. I like characters who do the best they can with their circumstances, and who wear their damage as strength even when it alienates them from the people around them.
What's the hardest scene for you to write?
The hardest scene in Captive Prince to write technically was probably the banquet scene, because it was the first large-scale "set piece" of the book. There were multiple characters, each with their own competing agendas, and that is always a technical challenge. I read recently that Tolkien broke up the Fellowship at the end of Two Towers because it was too technically demanding to write scenes with more than three characters – I empathised.
The hardest scene to write emotionally was probably the scene in which Damen is sent by Laurent to compete in the ring. I had to write that scene looking away from the screen, touch typing with my eyes closed at points. I wanted to make that scene emotionally difficult but it took its toll on me.
What can readers expect from the upcoming sequels?
Expect adventure, high stakes and burgeoning romance – as well as some shocking surprises. In Prince's Gambit, the story moves from the palace to the battlefield, and Damen and Laurent have to work together, but the truth of secrets from both their pasts threatens them both.
If you could meet any characters in your book, who would it be and why?
I'd like to meet the Regent in a dark alley with no witnesses.
Do you have a favorite author? Or a favorite book?
My favourite author is Dorothy Dunnett, and her books have been an enormous influence on me as a writer. I first read Game of Kings when I was fifteen years old and it remains one of my favourite novels. Dunnett has a mastery of the invisible that make her books seem almost like sorcery. Where is this tension coming from? Why is this scene so agonizing? Why is this scene so powerful? Tension and emotion rise and rise in her books sometimes almost unbearably, yet when you look at the writing, at the actual words, it is often completely restrained, there's nothing to show that the scene is emotional at all.
Your books are going to be released in France, do you see yourself meeting your French fans one day?
I would love to come to France and meet French fans. I hope that I can some day soon!
—————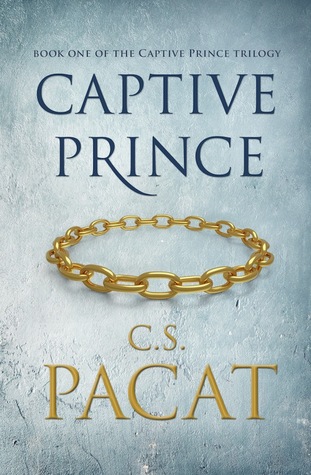 Bienvenue sur Between Dreams and Reality, pouvez-vous vous présenter en quelques mots ?
Je suis une auteure, adorant les antihéros, les princes, les combats d'épées, les intrigues, l'aventure et les romances.
Aviez-vous imaginé un tel succès pour votre série ?
Jamais ! J'ai écrit Esclave plus par plaisir que pour une publication. Je le dois vraiment à mes lecteurs qui m'ont apportés leur support pour mon livre depuis que je l'ai auto-publié en 2013. Il a fait tellement parler de lui qu'un agent de New York m'a approché et nous avons fini par vendre le roman à Penguin USA, et à Bragelonne en France – de même que dans d'autres pays. J'ai toujours l'impression que c'est un rêve et je suis incroyablement reconnaissante envers mes lecteurs et fans.
Comment décririez-vous la série Prince Captif ?
Prince Captif est une série fantasy avec une romance ennemie-amour entre deux princes de pays rivaux. Le premier tome se concentre sur les intrigues de palais et la politique, de même que les thèmes de pouvoir et de sexualité intense.
Pourquoi avez-vous décidé d'écrire une romance M/M ici ? Est-ce plus difficile ?
J'aime écrire l'homo-érotique, et c'est ce qui m'attire le plus en tant que lecteur. Je ne pense pas que ça soit moins ou plus difficile, mais je pense que cela créé une toile différente comme cela permet une exploration libre des dynamiques inter-personnelles de la politique historique des différences de genre.
Vous avez créé un monde vraiment différent, comment l'idée vous est-elle venue ?
Je voulais écrire un livre que je veuille lire. J'aime l'évasion intense, des histoires où vous tombez amoureux des personnages et de l'univers. J'aime l'aventure, les combats d'épées, les poursuites, les évasions, l'amour, les intrigues et l'homo-érotique, le thème du sexe, le pouvoir et la sexualité
Les princes me fascinent, pas dans le sens des contes de fées, pas même les Princes Charmants. J'aime les princes comme ils doivent destituer quelqu'un pour devenir roi. Les princes sont liminaux, ils sont dans un état constant de devenir. La destitution est un thème incroyablement puissant pour moi et j'ai été complètement emportée par l'idée d'un prince devenant un esclave.
Lister 5 personnages d'Esclave et faites une association de mots.
Laurent – Prince de glace
Damen – Noble
Le Régent – Instopable
Nicaise – Verre brisé
Jord – Ferme
Quel est votre personnage préféré de la série ?
Je ne peux pas choisir entre les deux héros, mais mes personnages secondaires préférés sont Jokaste et Nicaise. J'aime les personnages qui font de leur mieux avec les circonstances, et qui portent leurs blessures comme une force même si cela touche les personnes autour d'eux.
Quelle a été la scène la plus difficile à écrire ?
La scène la plus difficile techniquement dans Esclave est sûrement la scène du banquet, comme c'est la première pièce à « grande échelle » de mon livre. Il y avait de nombreux personnages, chacun avec leurs propres objectifs et c'est toujours un gros challenge. J'ai récemment lu que Tolkien avait coupé le Fellowship à la fin des Deux Tours, parce que la scène était trop technique à écrire avec plus de trois personnages – je compatis.
La scène la plus difficile à écrire émotionnellement était probablement la scène dans laquelle Damen est envoyé par Laurent pour se battre dans l'arène. J'ai du écrire la scène en détournant les yeux de l'écran, en faisant de la dactylographie de contact les yeux fermés à certains moments. Je voulais faire une scène émotionnellement difficile, mais ca a été compliqué pour moi aussi.
A quoi peuvent s'attendre les lecteurs pour la suite ?
Attendez-vous à de l'aventure, de gros enjeux, et une romance naissante – de même que des surprises choquantes. Dans Le Guerrier, l'histoire se déroule hors du palace pour se placer sur le champ de bataille, et Damen et Laurent doivent travailler ensemble, mais la vérité derrière leurs secrets les menacent tous les deux.
Si vous pouviez rencontrer un de vos personnages, qui serait-ce et pourquoi ?
J'aimerai beaucoup rencontrer le Régent dans une allée sombre sans témoins.
Avez-vous un auteur préféré ? Ou un livre préféré ?
Mon auteure préférée est Dorothy Dunnett, et ses livres ont eu une grosse influence sur moi en tant qu'écrivain. J'ai d'abord lu Game of Kings quand j'avais quinze ans et il reste un de mes romans préféré. Dunnett est un maître de l'invisible, ce qui fait que ses livres ressemblent à de la sorcellerie. D'où vient cette tension ? Pourquoi cette scène est-elle si agonisante ? Pourquoi cette scène est-elle aussi puissante ? Tension et emotion augmentent et augmentent dans ses livres, parfois de façon insupportable, et pourtant quand vous regardez l'écriture, aux mots, c'est souvent maîtrisé, il n'y a rien qui montre que la scène est émotionnelle.
Vos livres vont sortir en France, vous voyez-vous rencontrer vos fans Français un jour ?
J'aimerais venir en France et rencontrer mes fans Français. J'espère pouvoir le faire un jour !
—————–
Site de l'auteure : http://cspacat.com
Prince Captif, Tome 1
Résumé : Damen est un héros pour son peuple et le légitime héritier du trône d'Akielos. Mais lorsque son demi-frère s'empare du pouvoir, Damen est capturé, dépouillé de son identité et offert comme esclave de plaisirs au prince d'un royaume ennemi. Beau, manipulateur et létal, son nouveau maître, le prince Laurent, incarne ce qui se fait de pire à la cour de Vere. Mais dans la toile mortelle de la politique Vérétienne, les apparences sont trompeuses, et lorsque Damen se retrouve pris dans un jeu de pouvoir pour le trône, il doit s'allier à Laurent afin de survivre et sauver son royaume. Sans jamais oublier une règle vitale : cacher sa véritable identité à tout prix. Car l'homme dont il a besoin est celui qui a le plus de raisons de le haïr…
Convaincus ? Vous avez d'ailleurs l'opportunité de gagner 5 Tomes de ce premier volume, le tout en partenariat avec l'éditeur. N'hésitez pas à participer ! Le concours est ouvert à la France et à la Belgique et se termine le 31 Mai. L'email que vous utilisez (sur facebook ou directement noté) sera celui avec lequel nous vous contacterons si vous avez gagné. Remplissez bien chaque conditions dans la forme suivante :